American Legion Membership Eligibility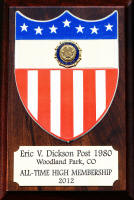 If you are on active duty today, anywhere in the world, or have served a minimum of one day federal active service during any eligible war eras, you are a veteran and you're eligible to become a Legionnaire!
We're veterans just like you, nearly 3 million strong, who care about America, veterans and their families, and our nation's youth. The Legion is a powerful voice in Washington dedicated to preserving the rights we've all earned - and were promised - by service to our nation in uniform.
We invite you to join us now.  Membership brings an impressive array of benefits. The American Legion is always there for you and your family.
You must have served at least one day of active military duty during the dates below and were honorably discharged or still serving honorably.
Eligible War Periods:
December 7, 1941 to December 31, 1946 (World War II)
June 25, 1950 to January 31, 1955 (Korean War)
February 28, 1961 to May 7, 1975 (Vietnam War)
August 24, 1982 to July 31, 1984 (Lebanon/Grenada)
December 20, 1989 to January 31, 1990 (Panama)
August 2, 1990 to today (Gulf War/War On Terrorism)
Two Easy Ways To Join
1. Join your local Woodland Park post by Mail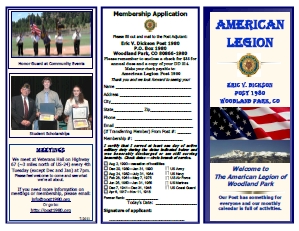 Whatever your reason for belonging to Post 1980, we will be glad to have you as a member.  Come to one of our meetings and check us out.

Post 1980 conducts many community, youth, and veteran activities throughout the year -- you can get a good feeling for our activities by reviewing our Post 1980 History.

Sound like this might be for you?  We can use your support!!

We set an all-time high for our membership in 2012, 2013, and 2014 and we are proud of our role in our community.

To join the American Legion or to Transfer to Post 1980 if you are already a member of the American Legion, please complete the "new membership" form included in our Post 1980 brochure (click our brochure image to download). Complete all areas of the application, sign, and mail with your check or monry order along with a copy of your DD214 (if discharged).
2. Join Online
The American Legion's success depends entirely on active membership, participation and volunteerism. The organization belongs to the people it serves and the communities in which it thrives.
Benefits of Membership
Free Monthly Magazine


Our nation's leaders speak directly to citizens on the pages of The American Legion Magazine. The American Legion's organizational goals are promoted using the words of talented writers, professional journalists, and world leaders.

Member Discounts


Your membership gives you and your family practical, money-saving discounts that can easily save you many times the cost of your annual membership dues.

A Voice in our Nation's Capital


The American Legion is the nation's most influential, effective and dependable advocate of veteran affairs fighting for better active-duty pay, improved housing for active-duty families and helping to ensure that the VA's medical system can properly care for veterans.

VA Benefit Assistance


Your membership helps support Department Service Officers nationwide who assist veterans in preparing claims and obtaining their full military healthcare benefits through the VA.

Click to Join Online Today!
"Note: By joining locally, you will become a member of Woodland Park Post 1980 and receive regular email communications on local events and the invitation to participate in your community. Joining online (or through other correspondence such as mail solicitations), you will be placed in an American Legion National Holding post. You are invisible us locally. If are assigned to such a post and wish to transfer our local post 1980, send an email to adjutant@post1980.org and we will initiate a transfer. "
Renewing Members
For Renewing Members:
July 1 marks the start of the 2017 membership renewal process. You will be receiving renewal notices via mail shortly. The easiest and fastest way to renew is online.


Click for Online Renewal
Enter your member # and last name and follow the directions.
Become A Paid Up For Life Member
Learn how to become a paid up member while also supporting your local post and the national organization.